1907 Cadillac Model M Touring Car
(Selden License #48265, Engine #23110, Serial #4468)
---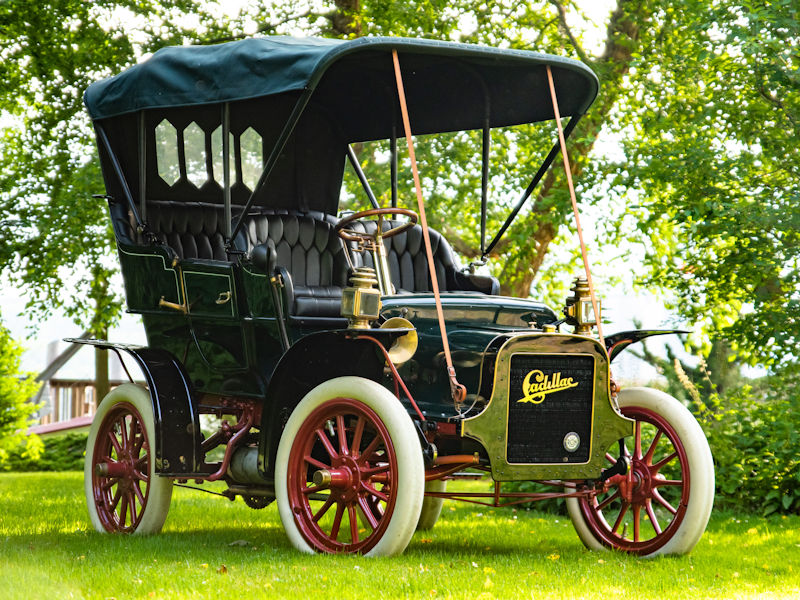 This 1907 single cylinder Cadillac Model M touring car with a "Straight Line" body style is one the finest examples that remain of the estimated 20 worldwide survivors. At the time, this body style was considered the 'more modern' body style and was only produced in 1906 and 1907. There were approximately 1600 Model M's originally produced in 1907 in both "Tulip" and "Straight Line" body styles.

This car is believed to have spent its entire life in Connecticut. It was shipped from the Detroit factory on February 20th, 1907 to E. P. Chesbro, Willimantic, CT, a prominent Buick, Cadillac and Pope-Hartford dealer. This is a picture of the Chesbro dealership in 1909 when Chesbro had switched his allegiance to Buick and Overland.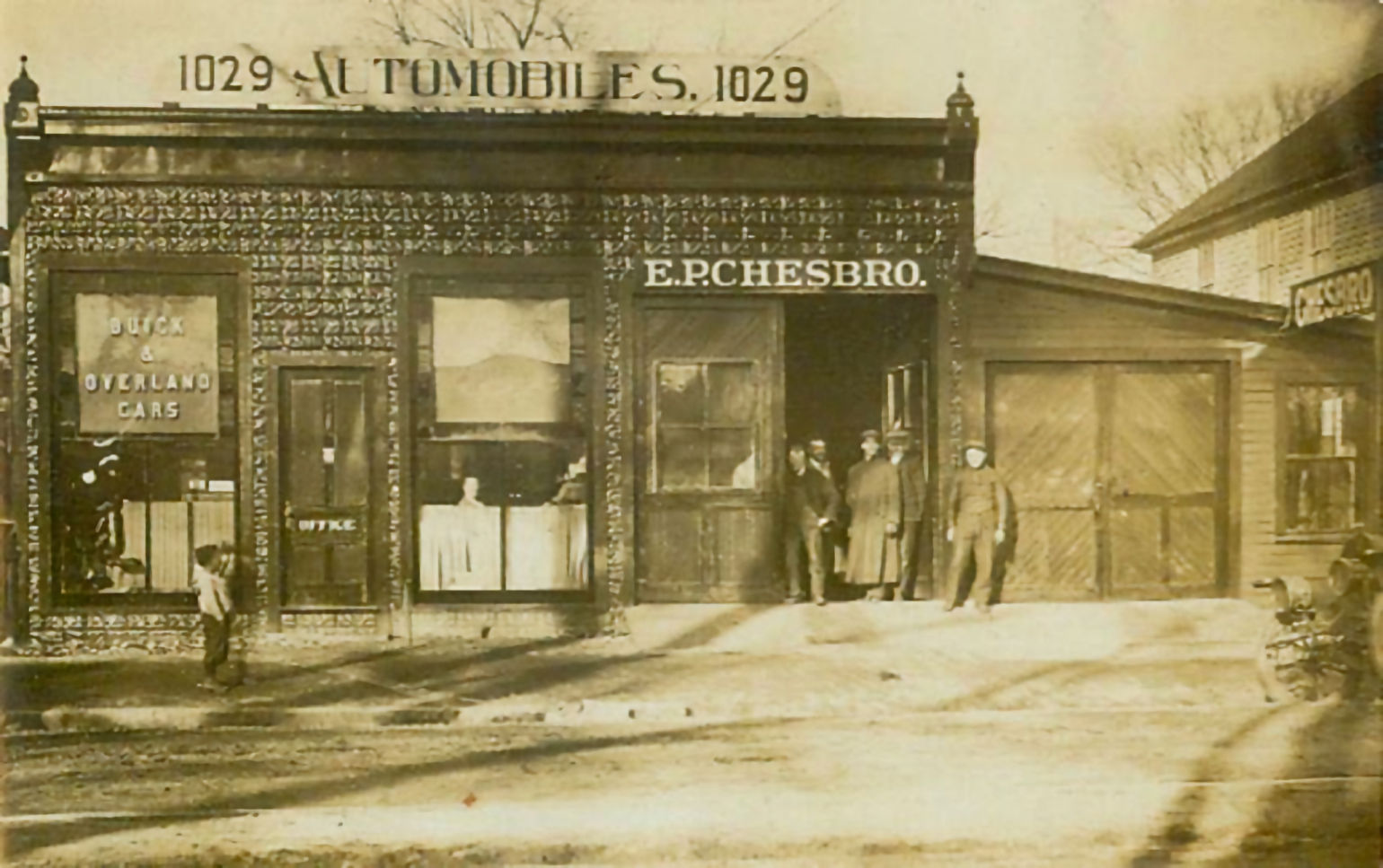 The individuals pictured from left to right are Fred Little, E.P. Chesbro, Leslie Nichols, Walter Brown and John Upton. At some point in its early years, it spent time on a Connecticut farm, where its back seat was removed and the "one-lung" engine used to cut firewood. In January 1958, it was sold by John J. Lyons of Thomaston, CT to a partnership of Raymond G. Bentley and his Son-in-Law Edward C. Thierry of Harwinton, CT. On November 6, 1966, the car was sold again, this time to Sam Willard of Old Lyme, CT.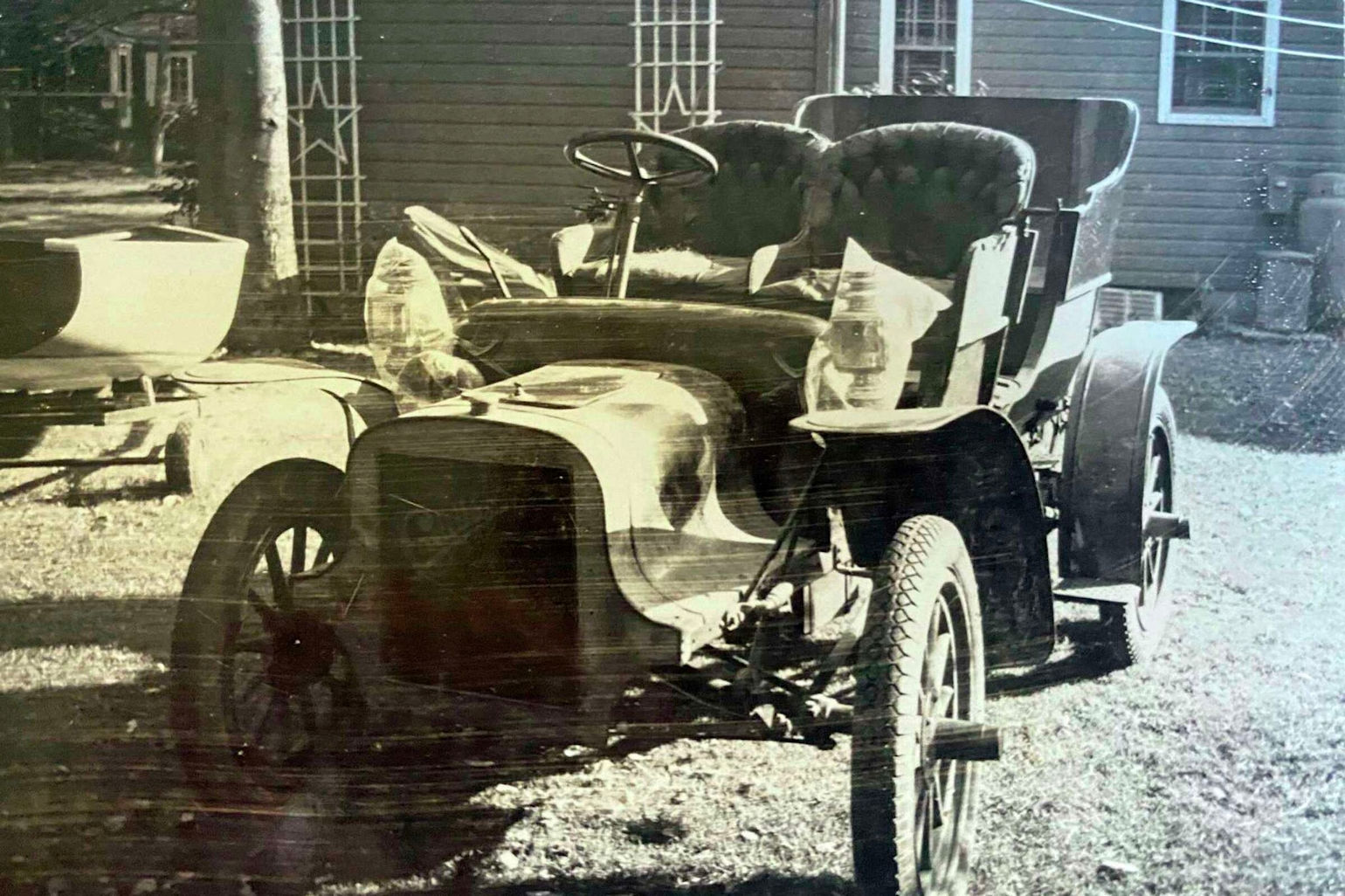 "The day Sam got the Cadillac home, November 1966"
As Sam later said: "When I bought it, (the car) was in tatters, but it was all original - the hardware and everything." In the 1990's, Sam painstakingly began mechanical restoration of the car and rebuilt the back of the car to original specifications. The car completed an extensive Concours level restoration in 2010 and, in May 2020, became part of the Bill & Linda Lillie Collection of Gales Ferry, CT.

As Sam told Hemmings Classic Car magazine in 2021 "There may be some that are just as good, but there are none better."

Horizontal 1-Cylinder Engine
10HP, 98.2ci L-Head
Two doors, 4 passenger
Single Updraft Carburetor
2-Speed Planetary Transmission
Chain Drive
Leaf Spring Suspension
2-Wheel Mechanical Brakes
Original Price - $1,050 (with factory installed Victoria top)






View the Gallery for this vehicle
Awards
Radnor Award for Veteran Cars, 2022 Radnor Hunt Club Concours d'Elegance
Best in Class, 2022 Old Lyme Lions Club Classic Car Show
Featured as April 2022 Car of the Month in Hemmings Motor News Calendar
2021 Klingberg Motorcar Series - Spirit of Klingberg Award
Best in Class, 2021 Virginia Festival of the Wheel Concours d'Elegance
Best in Class, 2021 Misselwood Concours d'Elegance
Featured in the March 2021 Issue of Hemmings Classic Car Magazine
Best in Class, 2020 Klingberg Concours d'Elegance
Best in Class, 2020 Misselwood Concours d'Elegance
The Cars
Select a car to learn more about its history.
---
Our Previous Cars
Below you will find the vehicles which we have owned in the past.
---