1925 Model T Pickup Truck
(VIN 15168692)
½ Ton Light Express Body with Vestibule
"The Little Red Truck"
---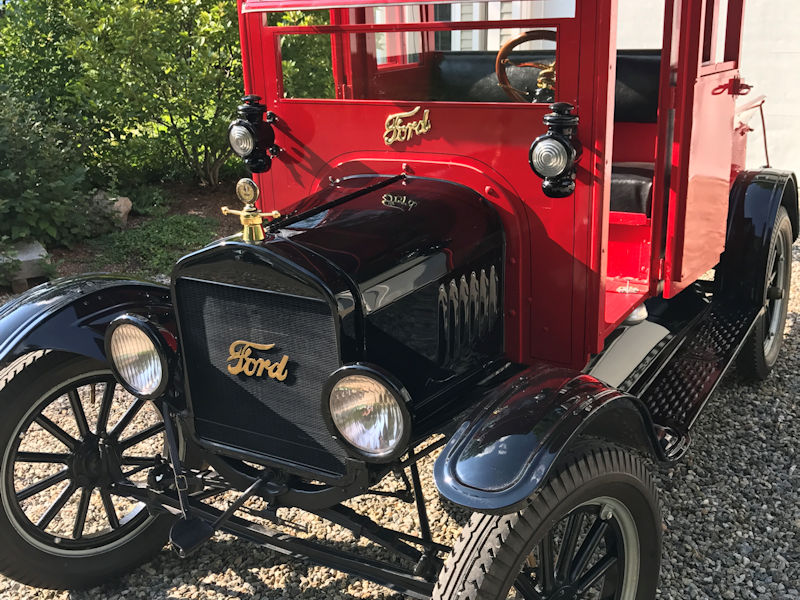 The "Little Red Truck" was found in the late 1940's in a Mid-West barn. The original cab was in good shape and just needed cleaning, but the bed had fallen apart. Harold Daily, MD rebuilt it in the 1950's using all of the original hardware and new wood. After rebuilding, the truck spent about ten years in a Texas museum before being sold in June 1974 to the Hasek family of Illinois. In the late 1980's a tornado hit the pole barn where it was being stored and the bed of the truck was splintered. The damaged wood was replaced and it was rebuilt using the original hardware. In 2000, the "Little Red Truck" was completely disassembled and underwent an extensive restoration (receipts show that $16,000 was spent in the restoration done by Antique & Classic Auto Restoration of Quincy, Illinois. Amazingly, their labor rate back then was $25/hour! Imagine the cost of this restoration if done today!). The truck moved to Georgia in 2005 as part of a Hasek family move. In 2012, this beautiful "Little Red Truck" became part of the Lillie Collection and was brought to Connecticut where she was in a number of parades and shows.

In 2018, the "Little Red Truck" began its new life in Pittsburgh as the featured truck at Tipple Taps which offers wine, sparkling wine, beer, and other assorted beverages on tap from the "The Little Red Truck". Tipple Taps serves the greater Pittsburgh region (and beyond) for weddings, private parties, corporate events, festivals - any and all celebrations.

View the Gallery for this vehicle
Awards
Best Oldest Original - 2012 3rd Annual Holy New Martyrs Car Show
Best in Class - 2012 Autism Speaks Car Show by the Milidantri Family
Best in Class - September 2012 Norwich Auto Show
Best in Class - 2012 Over the Hill Gang Wethersfield Police Explorers Benefit Car Show
The Cars
Select a car to learn more about its history.
---
Our Previous Cars
Below you will find the vehicles which we have owned in the past.
---